Sir Roger Norrington
Hello, music lovers. I believe Roger Norrington is one of the greatest conductor-interpreters of classical to romantic music. He becomes quite popular in Japan with his exciting, brilliant performance with RSO Stuttgart. His recording of Beethoven's 9th won the best performance award here... what a progress compared to the reception in some ten years ago!
After the successful 13 years with RSO Stuttgart, Sir Roger became the principal conductor at Zurich Chamber Orchestra (until 2015). Now he regularly conducts ZKO, Orchestre de Chambre de Paris, Deutsches Sinfonie-Orchester, etc.
not because pure tone is "authentic" but because it is beautiful, expressive and exciting.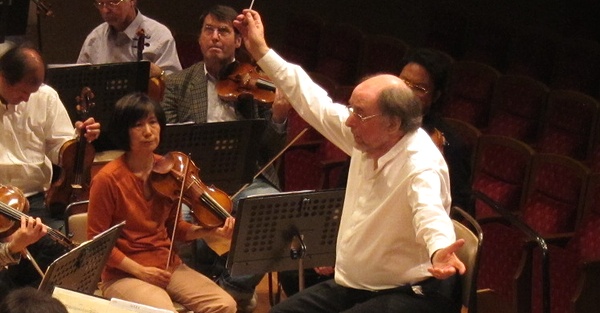 Sir Roger at stage rehearsal in 2010 Japan tour
News and Updates
Norrington related excerpts from recent microblog posts. Mostly links to concert reviews with a few Japanese notes.
The London Classical Players and ...
(as of 1999)
These recordings had been made with the London Classical Players, the orchestra he founded in 1978 with the specific aim of exploring historical performance practice. Norrington and LCP had performed and recorded many important repertories of classical to early romantic era, starting from Beethoven's 2nd and 8th symphonies and went down step by step, and broke-up in 1997.
Now Norrington continues his period performance with the Orchestra of the Age of Enlightenment. He also conducts London Philharmonic and became the principal conductor of SWR Radio Sinfonie Orchestra Stuttgart.
Career and Activities
(as of 1999)
Roger Norrington was born in Oxford in 1934. He sang and played the violin from an early age, and studied English Literature at Cambridge University and conducting at the Royal College of Music in London. He worked as a professional tenor and violinist and in 1962 he formed the Schütz Choir, with which he gave numerous innovative concerts and made many recordings. He was Musical Director of Kent Opera from its foundation in 1969 until 1984. From 1985-88, he was Principal Conductor of the Bournemouth Sinfonietta and Principal Guest Conductor of the Jerusalem Symphony.
Norrington has worked with most of the leading symphony orchestras in the United Kingdom. He is Associate Principal Guest Conductor of the London Philharmonic Orchestra, and he also works with the Philharmonia, the London Symphony, the BBC Symphony, the English Chamber Orchestra, and the Chamber Orchestra of Europe. Until recently he was Music Director of the Orchestra of St. Luke's in New York and is much in demand as a guest conductor, appearing each season with the Boston Symphony and the San Francisco Symphony and making regular visits to the orchestras of Los Angeles, Chicago, Baltimore, Washington, and Montreal. He will become the principal conductor of Stuttgart Radio Symphony Orchestra in fall 1998.
At the Royal Opera House, Covent Garden, he conducted Handel's Samson in 1986, Britten's Albert Herring during the 1988/89 season, and Peter Grimes during 1989/90. Other operatic appearances include English National Opera, La Scala Milan, La Fenice Venice, and the Teatro Communale Florence. During his musical directorship of Kent Opera, he conducted over 400 performances of 40 different works, covering a wide range of works from Monteverdi to Tippett.
Although Norrington's interest in historical performance is best-known through his activities with the London Classical Players, he also appears with other organizations using period instruments including the Orchestra of the 18th Century, the Boston Early Music Festival, and the Netherlands Bach Society.
He is Co-Director with Kay Lawrence of Historic Arts, which administrates not only the London Classical Players but also the Early Opera Project, the Early Dance Project, the Schütz Choir, and Mr. Norrington's acclaimed "Experience" Weekends.
Roger Norrington is an Honorary Fellow of Clare College, Cambridge and has received honors which include an OBE in 1979, Cavaliere (Italy) in 1980, and a CBE in 1990. Now he is Sir Roger(since 1997).
Mr. Charles Maurer told me that, in British tradition, he can be called Norrington, Roger Norrington, or Sir Roger, but not Sir Norrington. That is because the honorific is medieval, dating from when British society was so small that surnames were little needed or used.
Recordings
His innovative period instruments recordings with London Classical Players have received great public and critical acclaim and have won several important prizes, including the Gramophone Award for Period Performance in 1987 (Beethoven Symphonies Nos. 2 & 8), the Grand Prix Caecilia of Belgium in 1989 (Beethoven Symphonies Nos. 1 & 6), the Ovation Award in the USA (Berlioz's Symphonie fantastique), and the Deutsche Shallplattenpreis in 1990 (for the complete Beethoven Symphonies.
He also records many important pieces with London Philharmonic and SWR Stuttgart RSO, as well as Camarata Saltzburg and Orchestra of the Age of Enlightenment.
See Roger Norrington Complete Discography for more information.
Some references
"Only Poetry Played Here", TIME magazine, March 21, 1988
"Not An Antique Business", SCHWANN Opus, Summer 1993
"Where few have gone before", Gramophone, November 1995
"Man of music with period appeal", Financial Times, January 2, 1996
"Either awe", Early music today, October/November 1996